6.6 Megapixel CMOS Image Sensor
The MegaCamera SI-6600 utilizes a proprietary portrait style 6.6 Million pixel high-speed CMOS image sensor. Each pixel is 3.5um square, ideal for image processing, and the entire array fits the 1" format for flexible optic choices. This reduction in process geometry allows for both an increase in transistors and fill factor without compromising performance, plus offers more advanced readout controls, greater speeds and lower power dissipation. This new sensor technology offers a more responsive pixel design with added circuitry for increased dynamic range, greater sensitivity, decreased fixed pattern noise and low dark current for long exposure applications. Unlike CCD, which leak charge to adjacent pixels when the registers overflow (blooms), the SI-6600 provides inherent anti-blooming protection in each pixel, so that there is no blooming.
The array has 2210 pixels on a line and 3002 rows, which result in a near 3:4 portrait aspect ratio. The SI-6600 outputs 2208 x 2960, using 42 rows for interframe blanking. The image can be rotated 90-degrees to obtain a 4:3 image. In addition, by using the windowing feature, a 16:9 aspect ratio (eg. 1280x 720) or 1:1 aspect ratio (1024 x 1024) are available. At smaller ROI sizes (eg. 128 x 128) frame rates in excess of 1000fps.
The SI-6600 MegaCamera achieves high data rates by simultaneously accessing two adjacent pixels at a time and reading them out sequentially. These pixel values feed thru a gain & offset amplifier and then to on-board dual 10-Bit A/D converters and placed onto a 12-bit data bus for transmission. The entire imager field of view can also be readout using subsampling. In this mode, 2 pixels are readout and a group of pixels are skipped. As fewer pixel are output, the frame rate increases
In a color model, a Bayer filter covers each of the pixels to produce a pattern of values that represent the color information, which must be processed and interpolated to obtain an RGB value per pixel. The 12-bit output format from the camera is identical for monochrome and color models.
The camera sensor is light sensitive between 400 and 1000 nm. The peak QE * FF is 22.5% approximately between 500 and 700 nm. In view of a fill factor of 35%, the QE is thus close to 70% between 500 and 700 nm.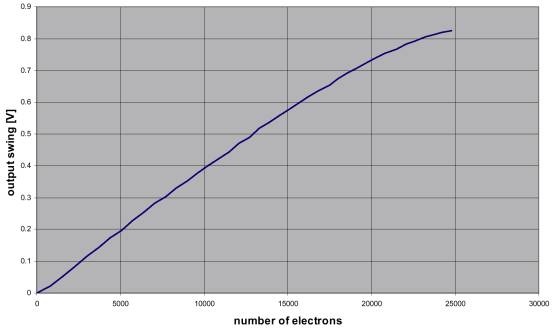 The figure above shows the pixel response curve in linear response mode. This curve is the relation between the electrons detected in the pixel and the output signal. The resulting voltage-electron curve is independent of any parameters (integration time, etc). The voltage to electrons conversion gain is 37 µV/electron.
10-Bit Digital Sampling System
A 10-Bit Analog-to-digital (A/D) converter samples each pixel value and quantizes it into 1024 levels, as it is clocked out of the sensor. Pixel clock sampling ensures precise measurement of the photonic charge without the jitter and sampling uncertainty associated with traditional analog video systems, such as RS-170 and CCIR. The camera produces images which can deliver improved photometry accuracy and sub-pixel metrology. The use of 10-bit converters versus traditional 8-bit systems further enhances the image dynamic range. The combination of 10-bit vertical resolution and pixel clock sampling provide precise sub-pixel measurement accuracy (ex. 1/10 pixel).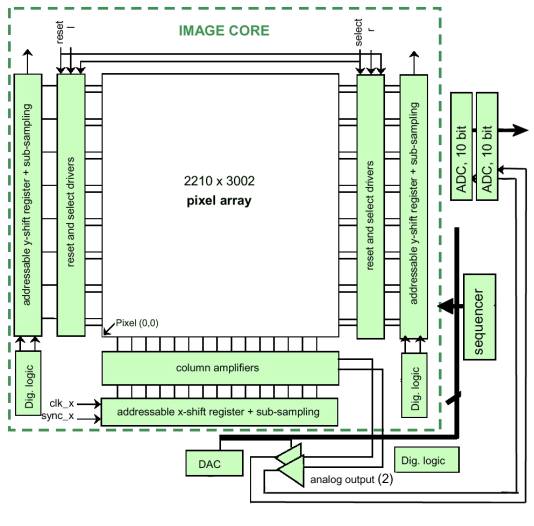 Digital Clock Synthesizer
A wide range a master clock frequencies (eg. 20 to 60MHz) can by precisely generated using the Digital Clock Synthesizer. The Frame Grabber, which is used with the camera, must be capable of receiving 12bit at 60Mhz to achieve the highest data rates. Without any byte packing of the 12-bit word the data rate would be 120MHz (2pixel x 2bytes/pixel x 60MHz). In standard 32Bit/33MHz PCI computers the maximum data rate directly to host memory is usually below120Mbytes/sec (from 132MB/sec bus) without system interrupts. However, 100MB/sec is more reasonable rate to achieve with other system devices operating (eg. display, clock, mouse etc.). Under these condition the 12-bit data can be mapped to 8-bits/pixel to reduce the bus traffic or the clock rate can be reduced to and still maintain 12bits/pixel. The frequency of the clock synthesizer can be set by serial command. A table with associated clock frequency is found in the serial programming section of the manual. Due to minimum frequency restriction on the digital transmission link, the pixel clock frequency cannot be lower than 20Mhz.
Embedded Microprocessor
A microprocessor in the camera provides the control interface between the PC and the functional block in the camera (Sensor, Clock Synthesizer, Register Memory, Channel Link Interface & Serial port (CameraLink). The Microprocessor receives commands thru the LVDS level serial port and issues commands to the other devices. It also can store preset values for camera setting, which can be recalled with single ASCII character commands. Several digital I/O or analog sampling signals are available on the processor from PCB header points for custom OEM applications.
12-Bit CameraLink Interface (Base Configuration)
Camera Link is a new digital transmission method designed by imaging component manufacturers as an easy and standard way to connect digital cameras to frame grabbers. The Camera Link specification includes greater than 1.2Gb/sec data transmission as well as camera control and asynchronous serial communications all on a single cable with high-density 26pin connector. Only two connections are required to quickly interface your digital camera to a multitude of frame grabbers. This standardization will ultimately reduce cost of high performance digital cameras through open market competition and a simple migration path to faster and higher resolution systems.
As a standard that has been defined by industry members, Camera Link provides the following benefits:
Standard Interface:

Every Camera Link product will use the same cable and signaling. Cameras and frame grabbers can easily be interchanged using the same cable.

Simple Connection:

Only two connections will be required to interface a camera and frame grabber: Power and Camera Link.

Lower Cost:

Because Camera Link is an industry-wide standard, consumers will be able to take advantage of lower cable prices.

Smaller connectors & cables:

The technology used in Camera Link reduces the number of wires required to transmit data over traditional LVDS or RS-422 parallel interfaces, allowing for smaller cables. Smaller cables are more robust and less prone to breakage.

Higher data rates:

The technology used in Camera Link has a maximum data rate of 2.3GB/s, for use in the most demanding high definition, high frame rate and line scan.
The standard Camera Link cable uses a MDR 26-pin connector (3M Part# 10226-6212VC)provides the following signaling:

· Video Data (4 Pairs using 28:4 Mux, 24 Video, 4 Control)

· Camera control signals (1 Pair)

· Serial communication (2 Pairs)

· Power (3 pair) – Optional Control signals 2, 3, 4

The 24 bit image data (2 words x 12 bit) and 4 control bits are transmitted over only 4 differential pairs using a 28:4 multiplexer (National Semiconductor DS90CR285 Channel Link device). The Four enable signals are defined as:

• SerTFG—Differential pair with serial communications to the frame grabber.


• SerTC—Differential pair with serial communications to the camera.

The serial interface operates at 9600 baud, one start bit, one stop bit, no parity, and no handshaking. For applications requiring high serial throughput, such as real time windowing update at over 200FPS, the camera can support a serial link mode at 57kbs (not specified in CameraLink spec). The frame grabber serial communication must be set to match this speed.

Camera Control Signals & Power

Four LVDS pairs are reserved for general-purpose camera control. They are defined as camera inputs and frame grabber outputs. Camera manufacturers can define these signals to meet their needs for a particular product. The signals are:

• Camera Control 1 (CC1) - Used to do triggered image capture


• Camera Control 2 (CC2) for external master clock (optional)