The Silicon Imaging SI-2K MINI combines a digital cinema class 2048x1152 resolution camera head and together with SiliconDVR recording software, IRIDAS color-management technology, and the power of CineForm RAW™, delivers a direct-to-disk raw recording platform with unprecedented image quality and shooting flexibility. With it's low-noise, high-dynamic range sensor, over 10 f-stops of dynamic range are freely manipulatable with user generated Iridas look files, and IT-friendly connectivity through open PC platforms, battery-powered operation, and up to 4-hours of continuous shooting on a 160GB notebook hard drive round out an impressive array of digital cinema firsts in the industry.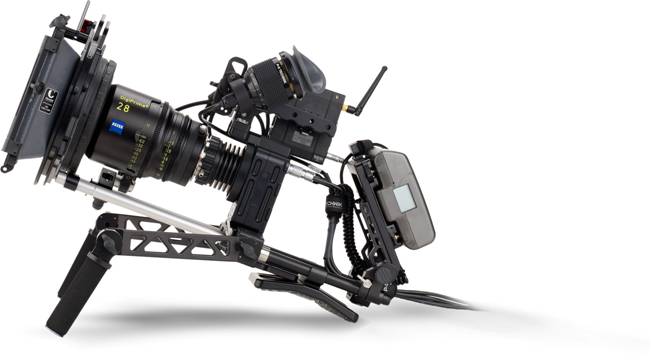 The Silicon Imaging SI-2K MINI uses a single large 16:9 format 2/3" CMOS sensor, and its single imager design enables the use of lower-cost 16mm film-style lenses, eliminating the optical aberrations caused by a 3-chip prism assembly. Shooting flexibility is enhanced with its interchangeable optical assembly, supporting the use of high-quality modern cinema PL-mount lenses as well as affordable F-mount and compact C-mount lenses. The integral support for 15mm lightweight rods and 19mm ARRI style bridge-plate adapters through the use of our mini-rig system make the SI-2K MINI an ideal platform for the latest in follow-focus attachments, matte boxes, and other cinema-style gear and accessories. An industry standard, Anton-Bauer Gold-Mount is used for battery power and portable operation. For situations too extreme or space-limited for the camera operator to maintain direct physical operation, the SI-2K MINI comes into it's own with the ability to remotely tether the camera head via gigabit ethernet over long distances while maintaining full control of the camera. Its built-in power regulator allows battery operation from 5-17VDC with a miniscule 6W of power consumption. For very long distances, off-the-shelf fiber optic converters can be added. It's 65mm width allows for the ideal human inter-ocular distance so that two camera heads can be mounted side-by-side for shooting stunning 3-D sequences.

The SI-2K MINI captures full resolution, DCI-compliant 2K and 1920 x 1080 progressive-scan 12-bit raw images for use in both digital cinema projection and HD television or optical disk environments. It uses Silicon Imaging's proprietary 48-bit digital processing algorithms to perform adaptive pixel-by-pixel black calibration and color image enhancement.
With IRIDAS's color management technology integrated into the recording software, any possible look in the creative mind of the cinematographer can be lensed with the camera. Furthermore looks are embedded right into the recorded AVI or Quicktime file, meaning there is no need to re-create looks created on-set again in post. With an extensive array of primary and secondary color correction control, Iridas' Speedgrade On-set allows the cinematographer to create their own unique non-destructive "virtual looks " that can be instantly loaded into the camera and utilized. No longer are cinematographers limited to the colorimetry of the camera, or the translation process from on-set to the DI suite. For the first time, the full metadata-managed pipeline of the SI-2K MINI with Iridas color-management technology allows the D.P.'s vision to extend uninhibited from the camera on-set to the cinema screen.

The SI-2K MINI abandons fixed bit-rate DCT codec recording formats, such as DVCPRO HD and HDCAM-SR, which rely on preprocessed YUV or RGB video data. Instead, CineForm and Silicon Imaging worked closely to extend the acclaimed CineForm Intermediate format for optimal in-camera operation. RAW digital information from the camera's sensor is recorded directly into the CineForm RAW™ format, which leverages CineForm's respected Visually Lossless Wavelet codec. Recording in the CineForm RAW™ Digital Intermediate format is similar to Adobe's DNG format used for still photography, which preserves the original pixel data. This technique gives the producer/director the added flexibility to develop the digital negatives in post, rather than being forced to make non-reversible decisions and apply camera adjustments on set. It also eliminates the YUV conversion steps on most 3-chip cameras, which unnecessarily expand the data by 300% before encoding. Recording raw sensor data results in higher detail and dynamic range for the same or smaller file size.

Standard 2K and 1080P resolutions can be recorded at up to 30fps. Special Effects and off-speed shooting modes include a variety of overcranking and undercranking options. Slow-Motion shots can be captured at speeds up to 72fps in 720P mode, 3-times the nominal 24P film rate. Long-duration events are captured using the time-lapse recording feature or using the long exposure mode, which accumulates light over several frame times to exaggerate motion for streak-style effects.

Using the built-in wired and wireless IP connectivity and file-sharing tools of Windows XP, there are new possibilities for on-set collaboration. As each shot is taken, it is now possible to immediately begin editing and compositing with an Adobe Production Studio and CineForm Prospect-HD workstation, connected to the controlling laptop over LAN or WLAN. One cna also simply remove the hard drive magazine and edit the content directly from the disc on another portable laptop while recording happens on a second drive. Play 10-bit CineForm RAW™ AVI and Quicktime footage in Microsoft Windows Media™ Player and Apple's Quicktime Player, add metadata with Adobe Bridge™, edit in Adobe Premiere Pro™ and Final Cut, or composite in Adobe After Effects™; all without a time consuming ingest process. After the edit is complete, high-end finishing and DI work can then be seamlessly accomplished in IRIDAS Speedgrade DI for real-time post processing and digital cinema color-correction all in a non-destructive 32-bit floating point environment.

The CineForm RAW™ Digital Intermediate codec enables editing and effects to be done in real-time at the user's demand without the hefty cost penalty of high-bandwidth RAID arrays and post gear traditionally associated with 10-bit uncompressed HD workflows. Combine Digital Intermediate AVI and Quicktime files with other YUV or HDV sources on the same timeline and perform real-time editing of up to 4 1080/24p HD streams, without dropped frames or the need to render. On output, select from a variety of advanced demosaic algorithms that adaptively process the RAW bayer data for the highest quality output to film, HD-SDI, HD-DVD, H.264, or Microsoft Windows Media High Definition Video (WMV HD) Format.